Sure, you might be able to go quicker on a superbike for a lap or two, if you've got the talent, strength, fitness and fresh rubber, but you'll be quicker for longer, with less effort and a bigger smile on your face riding the Panigale V2. No current sportsbike offers such a blissful blend of power and handling or goes to such lengths to flatter its rider.
Ducati Panigale V2 video review by Michael Neeves:
RIDE QUALITY & BRAKES
Continuing with the 959's monocoque airbox 'frame' the V2 is uncannily stabile under hard braking and rolling into corners. Such a stiff chassis made the 1199 and 1299 Panigales tie themselves in knots on the throttle, but with more modest power the V2 dances through curves with unwavering accuracy. Showa fork internals are tweaked, a 2mm longer Sachs shock tips weight forward for crisper steering and there's less rear preload for extra feel and grip.
All this adds up to sense of lightness, easy agility and the kind of corner speed that would have a clumsier superbike tripping over its laces.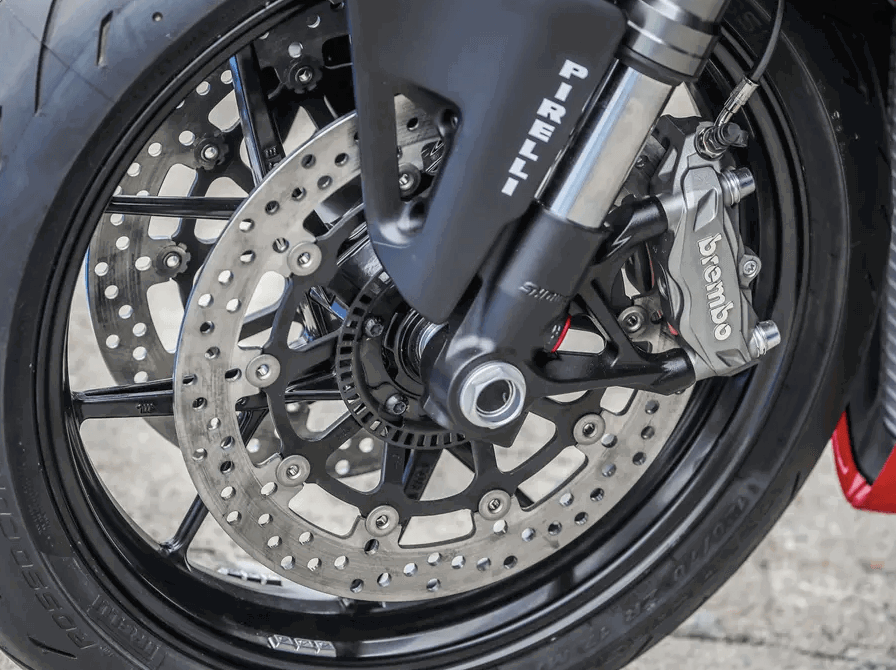 Few ABS systems can handle track work now. They panic at the first sign of the rear wheel going light under extreme braking and the resulting loss of stopping power can send you sailing past a corner or clattering into the back of someone else. It's a relief to discover the Ducati's electronics leave the V2's Brembos to do what they do best.
With three levels of ABS, there's a safe a steady mode for the road or rain, one that disables the anti-rear wheel lift setting (and lets you drift in on the back brake) and one with no rear ABS for unimpeded, muscle-bulging late braking antics.
ENGINE
It's the same 955cc V-twin Superquadro motor as the Panigale 959, but now fitted with a cat-packed Euro5 exhaust. Ducati say power is up 5bhp to 153bhp and torque increases a whisker, thanks to its new underslung pipe, higher-flow injectors and bigger V4-esque intakes.
Acceleration and speed aren't too different from the old bike's, but that's a good thing. It still revs manically like a race engine and has bucket-loads of smooth, crisp (especially in Race mode) and perfectly delivered thrust. A superbike will always batter mind, body and tyres with its immense torque and inertia, but the Panigale V2's power delivery is kinder and easy to manage.
RELIABILITY & BUILD QUALITY
Fit, finish and paint quality are top notch and everything you'd expect from a premium-priced sportsbike like this. Aside from mirror stalks that are too easy to break you shouldn't expect any mechanical or electronic problems. Oil servicing is either yearly, or every 7500 miles (whichever comes first) and valve checks are every 15,000 miles.
We've got one Ducati Panigale V2 owners' review on the site, and it's a full five stars, with the only negative comment that the side stand is tough to use with boots on.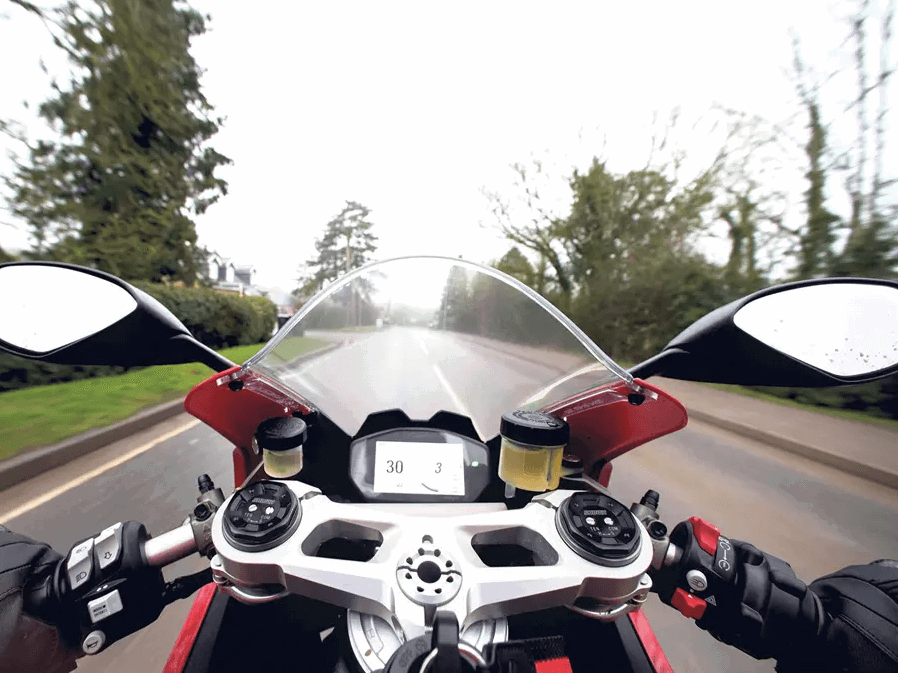 VALUE VS RIVALS
In terms of the kind of equipment and performance you get for your money, the Panigale V2 is worth it, but there's no getting away from the fact it's expensive to buy and insure. PCP deals make ownership easier, if you're not worried about ever owning the bike.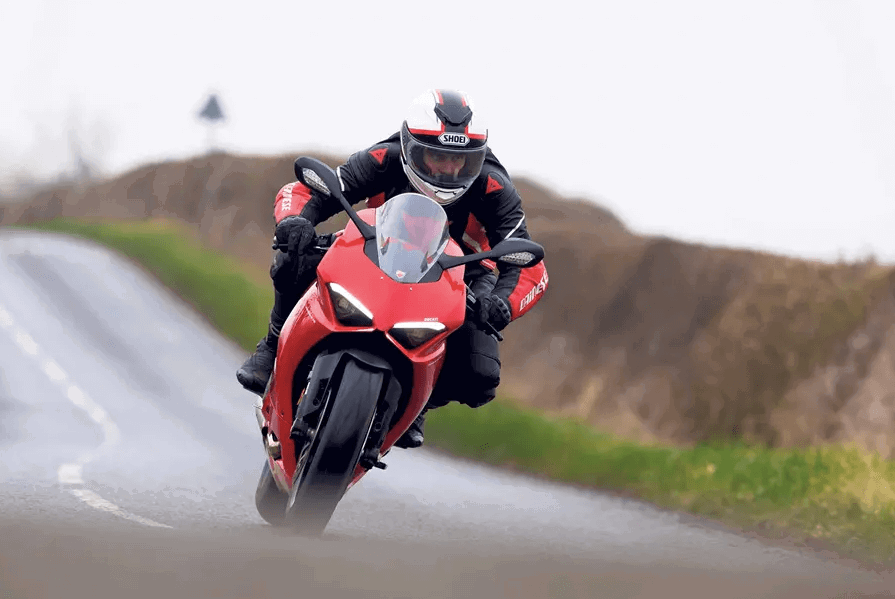 With the Suzuki GSX-R750 now a distant memory and Triumph's new Daytona Moto2 765 just a limited run, it's been left to Ducati to bang the 'mini superbike' drum.
And praise the lord they have because their new £14,995 Panigale V2 (2020 pricing), which replaces the 959 (and 899 before it) not only now looks as sensational as its V4 sister, it's actually more engaging and flattering, making more sense than a tyre-shredding, brain and body-battering superbike.
We've already ridden it on track at the world launch at Jerez and on the road around our MCN250 test route, but you wanted to know more. These were your most-asked questions...
Will there be a Streetfighter version?
Ducati boss Claudio Domenicali hinted at a Streetfighter V2 when MCN spoke to him last year. He said: "We now have a Panigale V2 that makes 155bhp and lets you experience exciting sport riding without being extreme. We would like to have naked bikes in different categories, too. The Streetfighter V4 will remain at the top and then we would have other bikes to give the same feeling with less extreme performance. We're thinking of a very interesting new naked."
What's it like on the road?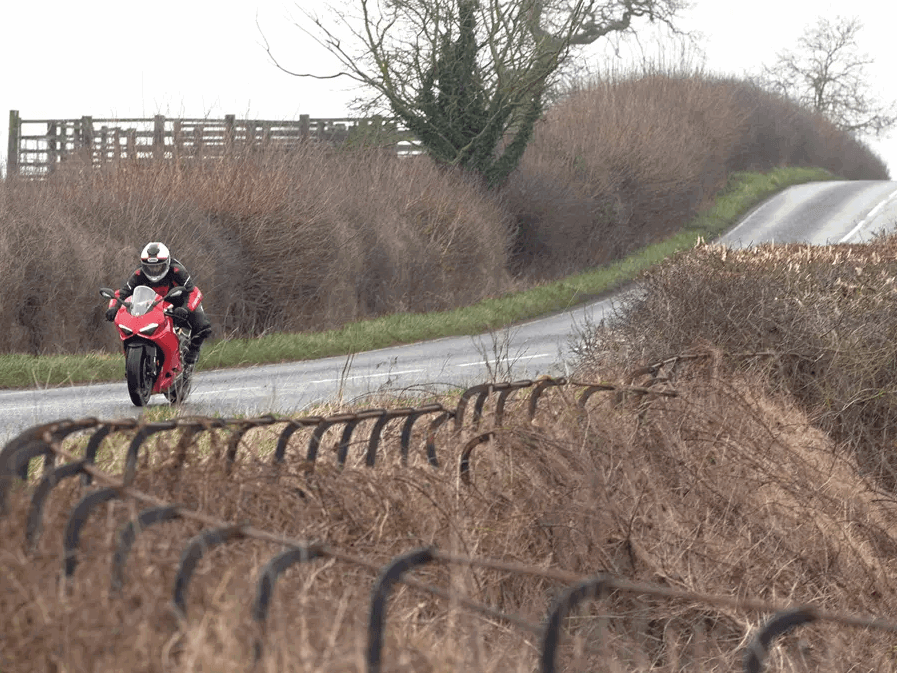 At low revs the V-twin is smooth and has enough oomph for swift riding, but the meat of its power lives above 6000rpm and that's what makes it so involving.
It's more 'on its nose' than the 959, thanks to a longer rear shock and taller seat, but it's still plush, stable and lives for fast sweepers. Pirelli Rosso Corsa IIs have lots of UK weather grip and there's plenty of legroom, but it's heavy on wrists, mirrors aren't great and the fuel light comes on around 110 miles.
Why don't Ducati make a more special 'S' version of the V2?
It's because they don't really need to and the stock bike has all you require for a thrilling and rewarding ride. Sure a shinier set of Öhlins suspension, chunkier Brembo calipers and lighter wheels would undoubtedly make ownership a warmer and fuzzier experience, but the V2 doesn't exactly lack in the corners, or struggle to stop. It costs more than a base Kawasaki ZX-10R or Suzuki GSX-R1000, too, so isn't exactly built down to a price.
You now get spoiled with a machined aluminium top yoke, colour dash, an up/down quickshifter and top-shelf electronic rider aids, just like the Panigale V4. Maybe Ducati will produce a special version with more goodies as a last hurrah one day, just like the 2012 848 Evo Corse SE?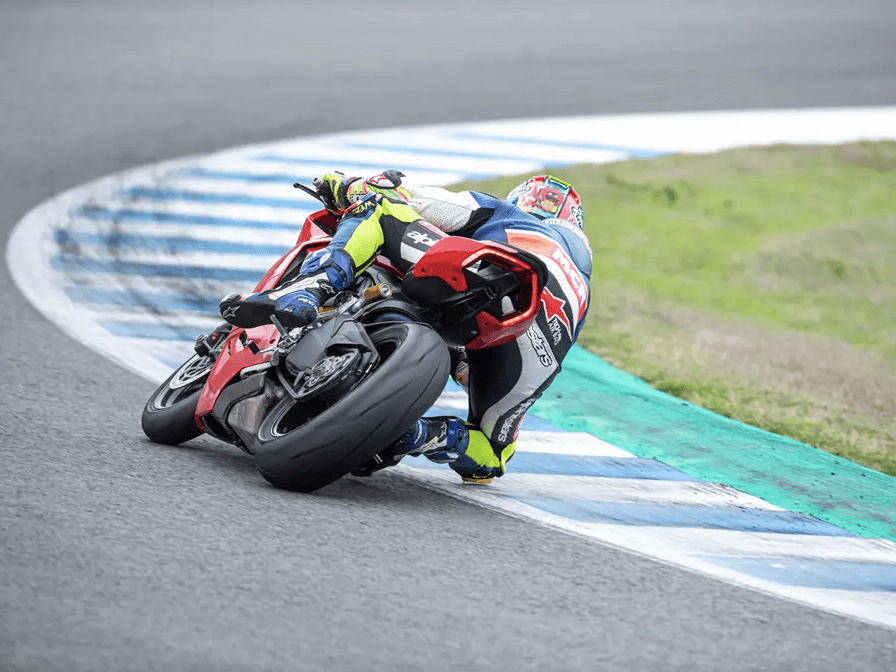 Is the Panigale V2 actually better than the Panigale V4?
Powered by the same 955cc V-twin Superquadro motor as the out-going 959 the V2 gets its superbike sister's styling and single-sided swingarm. Ducati claim the V2 has 5bhp more than the 959, but MCN's dyno reveals it is actually one bhp down, making 140bhp at the back wheel.
It's no match for the 211bhp V4 in a straight line or around a fast racetrack, but while the V4 is a thing of explosive-powered wonder, it's bloody hard to get the best out of, unless you know what you're doing, where in the real world the V2 has such sweet handling and manageable power you'll always keep up.
EQUIPMENT
Aping Ducati's V4 superbike, the Panigale V2 has its big sister's snarling snout, pointy rear end, gaping air intakes and for the first time a single-sided swingarm. The V4-inspired seat is 20mm longer and 5mm thicker, giving you a luxurious amount of room to play with, which will be music to the ears of taller riders.
Bars are wide and low pegs don't punish creaky knees, but there's still plenty of ground clearance. Completing the big Ducati look is a 4.3in multi-function TFT colour screen (slightly smaller than the V4's by half an inch) and new switchgear.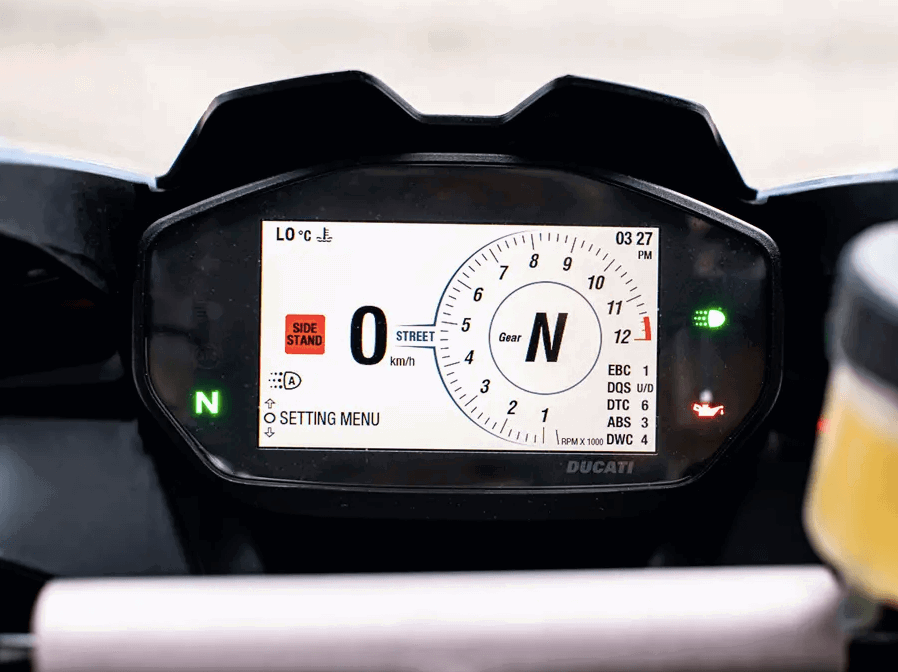 It's out with the 959's relatively basic riding aids and in with the same MotoGP-derived electronic strategies as Ducati's 2020-model V4s. The Panigale V2 now gets an autoblipper, as well as a quickshifter and a six-axis gyro for lean-sensitive ABS and engine braking control. On a slow, low grip road or track, the smoother anti-wheelie and (non-lean) traction control will be a benefit, but on fast flowing corners the Panigale V2 has so much poise, mechanical grip and not an excess of power to deal with, the electronics are rarely troubled.
For more info Contact Us Today!