OVERALL RATING
With the 2020 Honda Fireblade SP the Japanese firm have made their on-track intentions loud and clear. From its exotic price tag, to its tiny dimensions, to the way the engine screams, at the expense of the old bike's low-down torque, the new Blade is now flagrantly aimed at the well-healed, hardened track day addict or racer.
It's still beautifully appointed but is now as single minded as they come - loud, face-meltingly fast and a demon in the corners. You'll need the commitment and the skill of a racer to do it any kind of justice, which may limit its road appeal, but Honda want to win superbike races and they might just have the tool to do it.
Of course, there wasn't much wrong with the out-going Blade – MCN's 2017 Superbike of the Year. Sure, it didn't have headline-grabbing power ('only' around 185bhp at the back wheel), but its long-stroke inline four decanted lashings of real-world road grunt. Ask anyone who owns one and they'll tell you it's more than fast enough, thank you very much.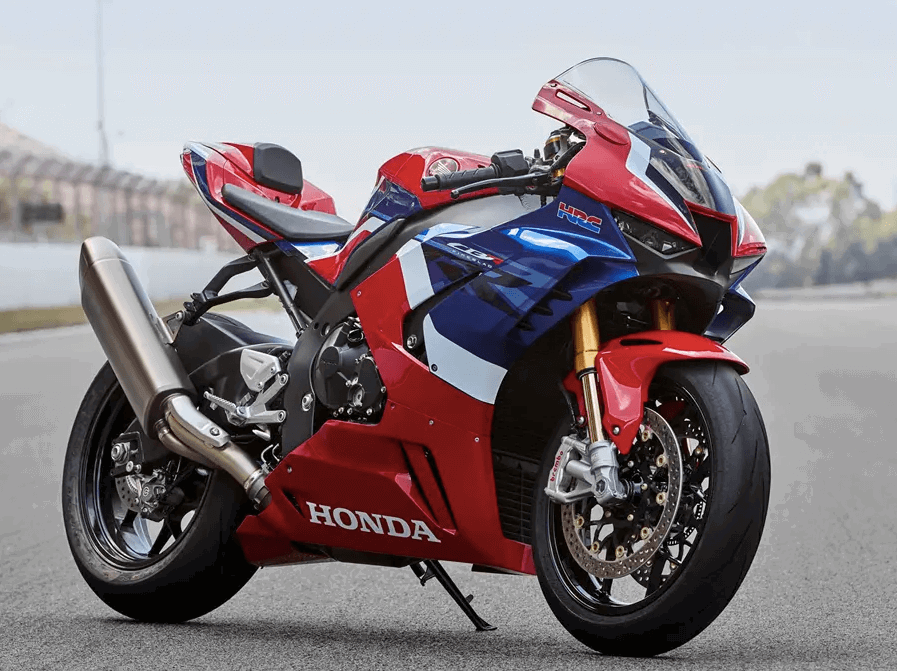 It handled beautifully, was screwed together with Honda love and such was its lightness (easily trumping its rivals), balance and all-out friendliness, it could set impressive lap times, too - proving you didn't need 200 bhp-plus to have a good time.
The 2017 Blade SP was the ultimate evolution of the Fireblade philosophy that dates back to the 1992 original: keep it light and simple and you won't need an excess of power.
The Blade has BSB and WSB wins and championships under its belt and a string of TT victories, but it hasn't seen the podium much lately, especially at world level. It reached the end of its racing development years ago and has been left behind. Honda want to change all that and have had to change tack with this new model.
RIDE QUALITY & BRAKES
The Blade's new-found raciness continues to the riding position. It was never the roomiest of all the superbikes before, but now it's more compact, with pegs 21mm higher and 43mm further back. The seat is 10mm taller and bars 17mm lower.
It fits Bautista and Haslam like a glove, but larger superbike lovers will look and feel big on the new bike. Madam or sir may be better off on a roomier rival, like a Yamaha R1, Ducati Panigale V4 or Suzuki GSX-R1000.
On the flipside there's plenty of room to move back and forth on the seat when you're hanging off this way and that. The new screen is more raked, to the tune of 38 degrees, but as the top of the tank is 45mm lower, it's easy to duck down and tuck out of the wind, something you couldn't do on the drafty old Blade.
Pummelling through corners has always been a CBR strength. It was stable, agile and sweet steering, but thanks to more power, Honda have stretched the chassis for more poise, raised the centre of gravity to keep it on its toes, factored in more flex and added more braking power in the shape of new Brembo Stylema calipers, first seen on the '18 Panigale V4.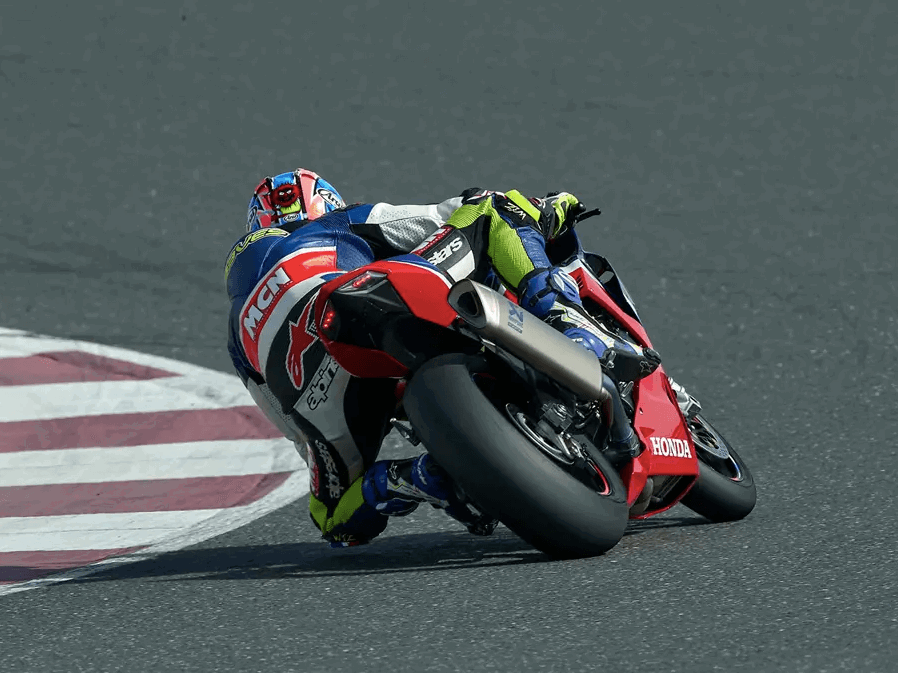 Now the Blade stops harder, flows even easier from corner to corner and is less snappy than the shorter old bike and new Öhlins semi-active shock and gas forks plump up the ride quality and adds extra control and confidence.
The Swedish firm have got the hang of producing the right hardware and electronic damping control for their semi active units over the years (it first appeared on the 2015 Yamaha R1M and MV Agusta F4 RR) and it shows. The new SP never shakes, wallows or weaves, it just hunkers down and lets you get on with it, with a limit that's impossible to reach for riders who don't race for a living.
Pirelli SC1 compound slicks fitted to our test bike undoubtedly add to the feeling of invincibility, but the SP still comes on sticky rubber: 'Version 3' Super Corsa SPs with a modern 200/55 rear that finally replaces the antiquated old 190/50.
Do the wings work? Well, you could bounce off the limiter in fifth along Losail's start/finish straight one-handed if you wanted and Honda says the new bike is a second faster around Sugo with them than without, so it's probably a yes.
ENGINE
For the first time the Big H have chased the big bhp figures and employed every weapon in their armoury to challenge its rivals - from clever chassis tech to electronic rider aids and advanced aerodynamics, all overseen by project leader, Yuzuru Ishikawa, who knows his onions having developed Rossi's '02 RC211V and the RC213V-S road bike.
The new short-stroke motor dominates the riding experience. It's now a rev-monster - so much so that the good stuff doesn't really start to arrive until its screaming at 11,000rpm. That's 500rpm more than the redline on the original '92 Blade. From there the inline four keeps on pounding your senses, all the way to 14,500rpm where it's making a very un-Blade-like 214bhp at the crank.
It takes time to get used to dishing out mechanical abuse on a bike that's never needed to be revved before. It's hard to get out of the habit of taking it around to just 12,000-13,000rpm, but if you want to exploit the Blade SP's new superpowers you have to work for it.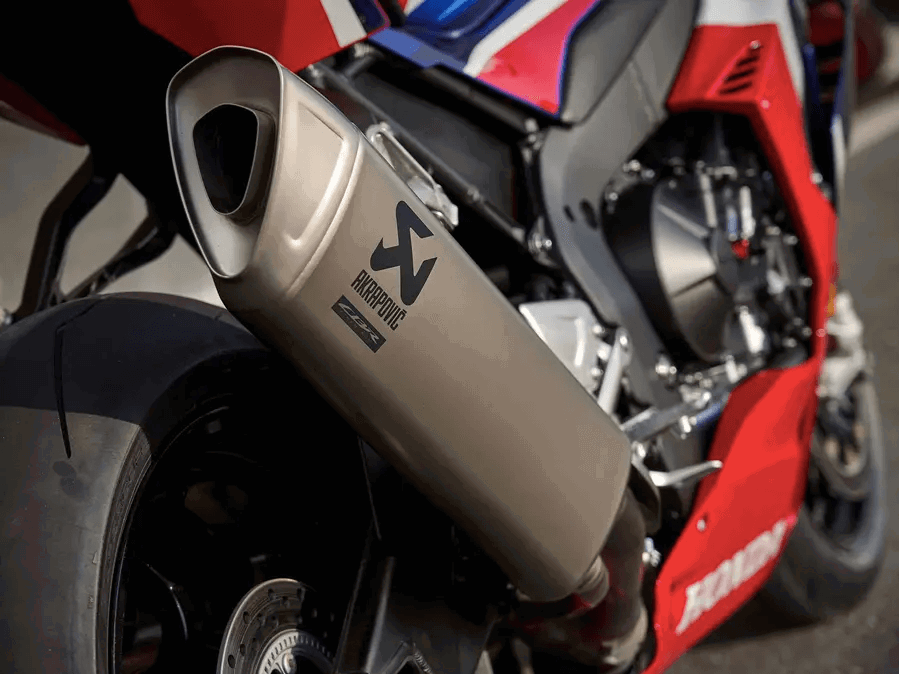 Let it fall out of the power mid corner and you'll be flailing on the gear lever to get going again and that's your lap gone, especially in slower corners, where, like the previous model, first gear is sky high.
The motor's lack of low-down grunt isn't filled in by clever ShiftCam systems, crossplane crank assistance or extra cubes. It could struggle against the BMW S1000RR, Yamaha R1, Ducati Panigale V4 and Aprilia RSV4 1100 Factory accelerating out of corners but keep the Honda's motor screaming and it isn't going to struggle to keep with the best.
214bhp is a lot, especially with just 201kg of fully fuelled metal, rubber and plastic to push along (although it's 5kg heavier than the out-going SP), but here at the open expanses of the Losail circuit, it doesn't set your world alight. Whether it's the Qatari track's wide-open nature that sterilise speed or the conventional inline four's staid character, it's tough to say, but at somewhere like Donington, Cadwell or Brands it's going to feel ballistic.
Throttle manners are improved over the old Blade, too, with less mid-corner snatch and although the Euro5 exhaust is quiet at low revs, the SP shrieks like an open-piped WSB racer when you open the taps. Like the old Blade, getting through strict noise testing at trackdays will still be a problem.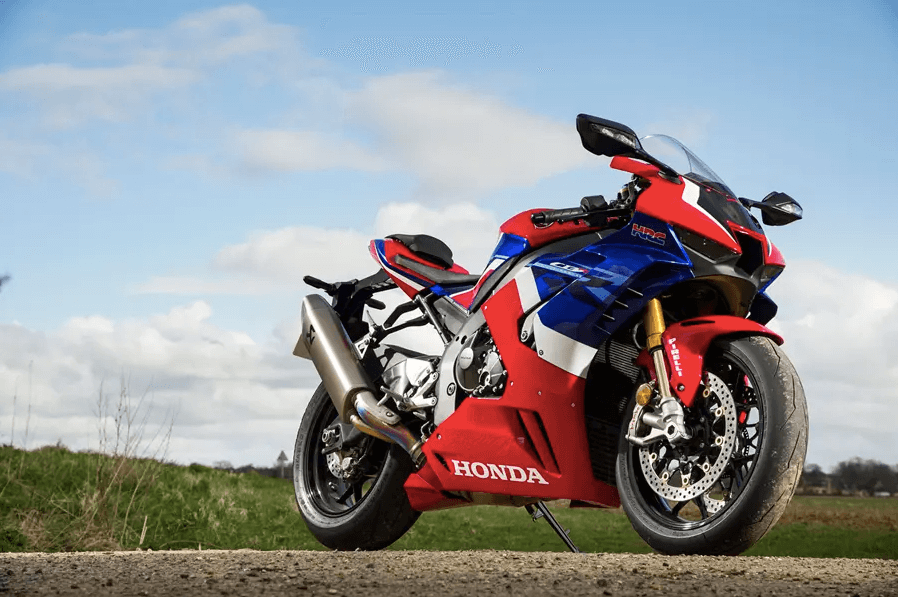 Electronic rider aids came late to the Blade party – only appearing on the 2017 model. They were fine on the road, but sometimes were too crude and inconsistent for quick track lap. Turning them off was never a problem thanks to the Honda's reserves of feel and mechanical grip, but the Japanese firm refined them for the lightly updated 2019 and now they've gone a stage further.
200bhp-plus power is ably harnessed by Honda's most sophisticated electronics package yet, controlled by a six-axis IMU (it was five on the old Blade) for smoother (nine stage) traction and (three stage) wheelie control. Rider aid adjustment is deeper and more refined with rear wheel slide speed as well as amount calculated. It can be all be turned off, if you've got the talent, except for the new two stage (Sport, Track) ABS system.
Working faster and smarter, the Blade now feels more natural when traction and wheelie control are tickled and their intervention is barely noticeable from the hot seat. The up/down shifter is a cracker, too.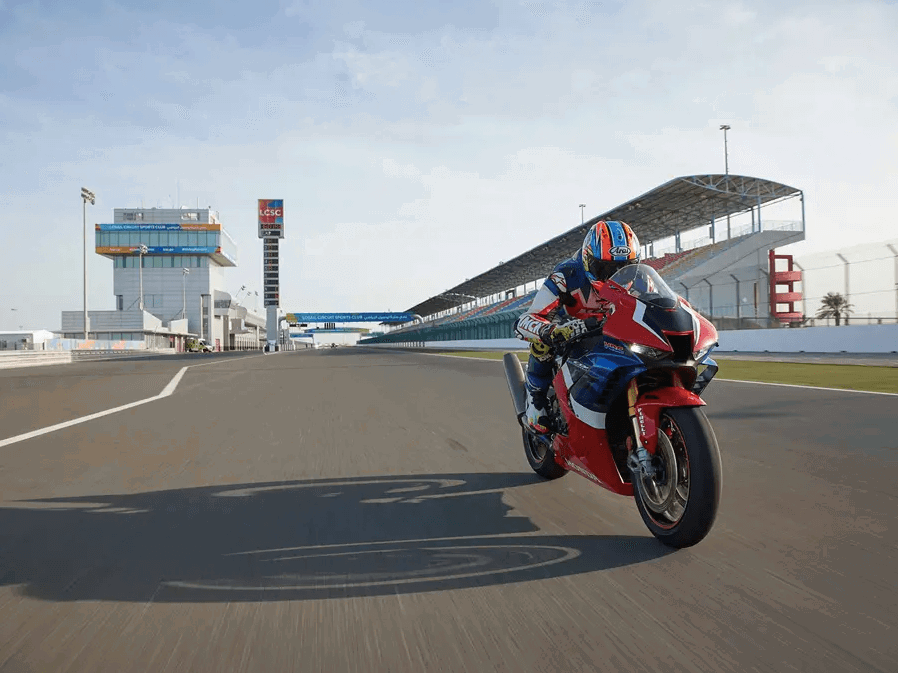 How the Honda put the fire into the Blade's belly
It's out with the old Blade's 999cc, 76mm bore a 55mm stroke inline four and in with a more compact, over-square 999.9cc motor with an 81mm bore and 48.5mm stroke. That's the same as the RC213V-S's and as close as makes no difference to a V4R Panigale.
Power and revs are all up, maxing out at 214bhp@14,500rpm and torque is a foot pound less (83ftlb), 1500rpm higher up the tacho (12,500rpm). Suffice it to say the Honda is a screamer.
To achieve such dizzying performance the motor is packed with all the tech, exotic metals and low friction trickery you'd expect, so deep breath: DLC-coated camshaft and lobes, finger follower rocker arms, bigger inlet and exhaust valves, titanium con rods, forged ali pistons with Teflon-coated skirts, Beryllium-copper coated small ends, more effective oil and water-cooling systems, a tucked away starter motor and a shorter cam chain that's now driven from a new gear system above the crankshaft. Air intakes and throttle bodies are up from 48mm to 52mm, new exhaust headers are oval and a titanium Akrapovic exhaust comes as standard.
Honda has taken the obstructions away from its huge central air intake, so the old rotary steering damper has been replaced with a three-stage electronically adjustable rod-type and the ignition barrel and gubbins is junked in favour of keyless ignition.
RELIABILITY & BUILD QUALITY
Pictures don't do justice to the Blade's top drawer fit and paint finish and as for dependability, there's a reason the Honda has consistently topped the superbike sales charts around the world over the years.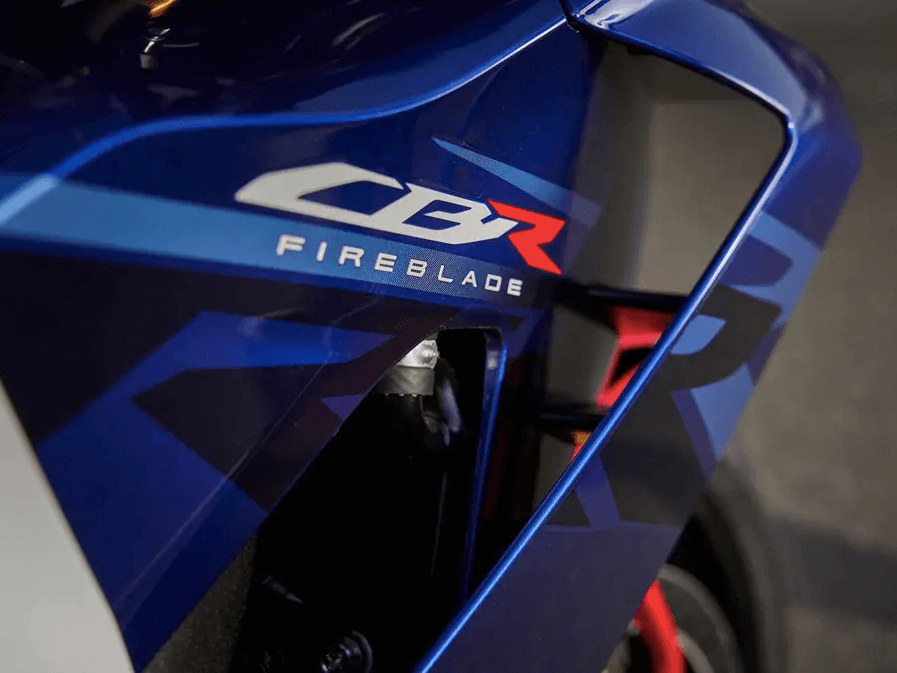 VALUE VS RIVALS
The new Blade SP won't cost any more to run than any other Japanese superbike, but all the detailing, designer chassis labels, racing engine parts, electronics and everything in between adds up to a bike that will be out of reach for most.
Add some official Honda carbon trinkets, or crash protection and you're in for even more. You can save a big wodge if you go for the base model, which is identical except for its mechanically adjustable Showa suspension, Nissin calipers and no up/down shifter. But if you're going to spend that kind of money, you may as well go the whole hog for the SP - easier said than done, we know.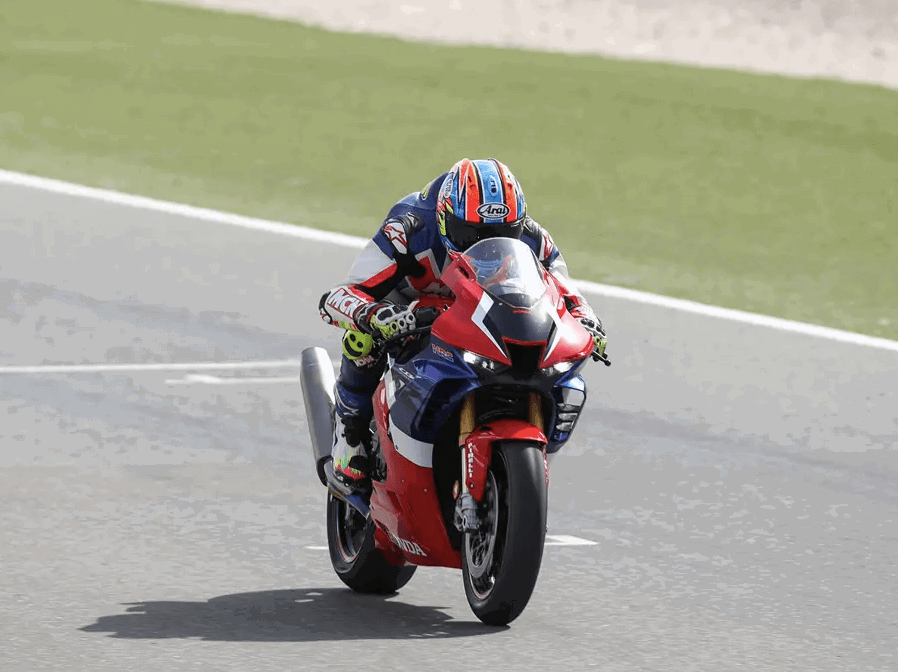 EQUIPMENT
Pictures don't do justice to the Blade's fit and finish. The faring is much fatter in the flesh thanks to the wings (its big-bore engine makes the whole shebang wider, too).
There are also more bumps, curves, slats, slots and strakes than ever to help the SP slip through the air. The rear of the hugger is scooped-out for improved airflow and the raised edges and spoilers on the front mudguard help direct the wind away from the wheel and fork legs.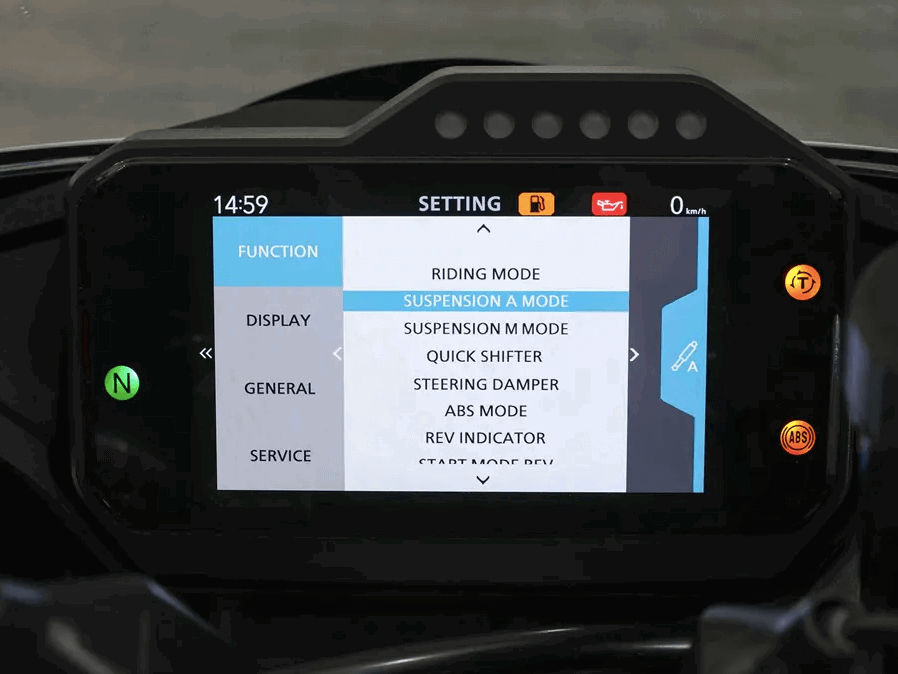 A new 5" colour TFT display has five different layout options and six rev counter styles. It's also the interface for the electronic rider mode settings menus, controlled by new switchgear blocks. The bike's on/off switch is down by the left side of the clocks, too.
Honda won't give away exact figures, but they say the new faired-in wings produce as much downforce as Marquez's 2018 MotoGP racer and perform better than their road bike rivals – that'll be the Panigale and RSV4. then.
New fully adjustable Öhlins semi-active NPX Smart EC 2.0 forks are pressurised for more consistent damping at the limit. Stroke is increased 5mm to 125mm for improved corner exit grip and fewer wheelies. The TTX rear shock has a 10% longer stroke, too.
MODEL HISTORY & VERSIONS
Model history
2014 – Honda produce an SP version of the Blade for the first time, featuring Öhlins all round, Brembo monoblocs, a blueprinted motor, HRC paintjob and taller screen.
2017 – Blade gets a significant makeover with more power, less weight and electronic rider aids for the first time. SP version features an up/down quickshifter, Brembos and semi-active Öhlins.
2019 – Electronics updated and refined. Traction and wheelie control can now be adjusted separately.
2020 – Major update: short stroke 214bhp engine, revised IMU-controlled rider aids and colour dash, a new longer-wheelbase chassis, bodywork, keyless ignition and MotoGP-inspired wings. SP comes with semi-active Öhlins and Brembo Stylema calipers.
Other versions
CBR1000RR-R Fireblade – Base model has same motor, chassis and electronics with Nissin calipers, mechanically adjustable Showa suspension and no quickshifter.
For more info Contact Us Today!